Hunter Blogs About VG's
Oct 18
Why Metroid Fans Double as Rabbid Feminists
    Metroid: Other M caused a shitstorm. A wave of harsh negativity from critics and the gaming community together. The way that people perceived how a character was portrayed caused them to lash out about it, and this anger resonated so well with people who hadn't even played the game that they didn't buy the game to try it for themselves. Well, you can argue that there are other reasons that this blockbuster game was sold for 5 dollars at Best Buy, that's an assumption I'm choosing to run with. Anyways, in all this over-exaggerated hate, is there something positive it says about the way gamers have been affected by the Metroid series?
Aug 07
Knuckles' Chaotix & Quality Policing Sonic
I don't feel like there's any game quite like Knuckles' Chaotix. It uses the basic platforming elements established in Sonic games prior, then does a copious amount of things different. 
Jun 05
Level Design in the Original Kid Icarus
Just beat Kid Icarus; the 3D Classics version. This game is in many ways unique, despite what your first impressions would be, and despite what mine were before playing it. In it's own little niche, it is the pinnacle of NES level design. But only in its own little niche, with an assortment of nuances. 
May 31
Donkey Kong: Dumb Ape or Open for Business?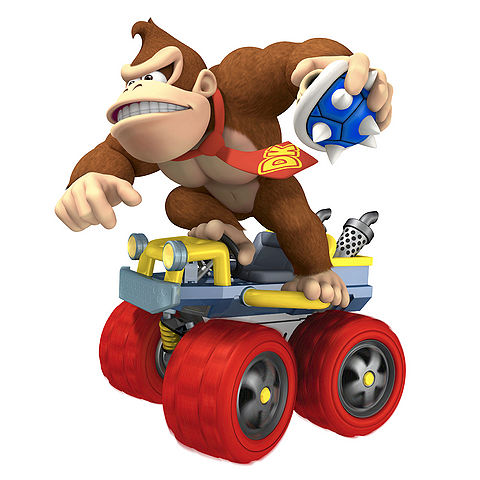 Ever since Donkey Kong: 64, the minimal voice acting they've given to DK has bothered me. 
May 28
Super Mario Land: What Does the "Land" Stand For?
I've been collecting all those star coins in Super Mario 3D Land, and after re-fighting Bowser multiple times it got me thinking - these fights are based off of the Super Mario Bros. fights.
There is no story here, which I suppose we can assume of a Mario game. Bowser kidnaps Peach and yada-yada-yada… but wasn't that what was different about the other two supposed Land games starring Mario?
May 24
My Current Top Ten Characters I Want in Brawl
Alright, let's dive right into it. I post in no particular order.
May 15
The Search for Metroid Prime Trilogy
I'll keep this one short. I've played through Super Metroid and Metroid: Zero Mission both late (in the past 2 years) and loved them. I want more, but am confused about where to go next. I've got the Fusion GBA Rom sitting on my computer - if I could get it easily legally I would - though I think since it's the last in the series I should play through them chronologically. 
torvus-blog-deactivated20120727 asked: what you wrote about kraid, was amazing. i could never agree anymore with a human being than i do with you.
Haha, good to know!
May 13
Generic Enemies in Super Smash Bros. Brawl
So I just finished playing Boss Battles in Super Smash Bros. Brawl, which got me thinking - what's with all the filler? Fighting Ridley is awesome, fighting Porky is awesome, fighting that giant Pokemon is cool. Then there's those bosses who are only memorable in how forgettable they are. 
Case in point.
May 08
Two Relatively Obscure Characters That Don't Get Enough Attention
I've always been geared towards things that aren't in the spotlight. I guess it's because the more creative something is, the more unsure people get about whether that something is a hit or miss. Any time I have a choice to play Luigi instead of Mario, I have a compulsive need to choose Luigi. I only go back to Streets of Rage 3 to play as the boxing kangaroo; who you also need to enter a code or unlock every time you boot it up. There are countless other examples of that, but I'm going to talk today about some non-playable characters who seem to have a bigger place in my heart than in the makers of the series they belong to.